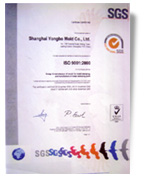 Shanghai YongBo Moulding Co;Ltd located in Volkswagen Automobile City, An Ting Town, Jia Ding District, Shanghai is an enterprise specialized in design、manufacture and processing of cold stamping mould of autobody mould、home appliance or hardware.

With a building area of almost 140000 square meters, factory area of 7614.5 square meters and total investment of 40 millions RMB, the company has advanced processing equipment and highly qualified working staff.
Our company owns one Hexagon Coordinate Measuring Machine(maximum measure range 2200×1200×1000mm); 4 sets of Gate CNC(maximum processing range 3220×240×1200mm) and more than 70 sets of equipments for various general finishing and producing.

The company has more than 60 technicians and managers. From the design and manufacture of home appliance and hardware since 1994 to that of auto mould or checking mould since 2000, we hold this principle all the time 'Be practical Be excellent Be faithful Be brave'. We pursue development in seeking for technology advancement and win customers' trust by improving knight service. We have a good cooperation with many automobile manufacturers such as Shanghai Volkswagen、Shanghai GM、Cosma and Guangzhou Honda. Meanwhile, our company has become the client of merchants from Japan Australia and America. Our total production value has exceeded 45millions rmb in 2004 and has an annual output of 200 sets of large or medium size autobody moulds.

Our company has rigorous enterprise administration and quality assurance system. The whole process of designing and manufacturing of mould applies CAD/CAE/CAM to achieve 2-D design、reverse engineering、3-D solid modeling and programming as well as analyze molding technics, consequently reducing the risk of mould development and production periods. Our products are all measured by coordinate measuring machine and strictly conformed to the standard of ISO9001:2000 quality assurance system. We make great contribution to increase customers' market share and prosperity of China Automobile Industry.